This summer I had the pleasure of working on two pieces that were a departure from the white metals my clients usually request.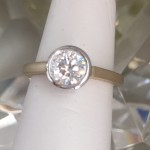 The first piece to come to fruition was a two toned engagement ring with a bezel custom created for the dimensions of the center stone, which was exceptional because of its excellent cut. My client's intended had requested a yellow gold piece, but the stone was so bright it required a white gold bezel because a colored frame would have just been inappropriate. We then created an airline shank that rose to the bezel frame and satin finished it. The result was a ring that is easy to wear and yet unique in the simplicity of its execution.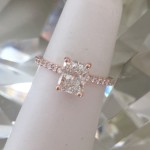 The second made me giddy because it was for a couple who opted for pink gold. This took quite a bit of courage because samples are all in white and yellow gold these days and the design was chosen on a leap of faith. The finished piece was a joy to see and I gasped when I saw it in spite of myself.
I was able to work in the trifecta of gold colors – pink, white and yellow – and every horse in the race won. Based on my clients' reactions, you might even have called it a superfecta.