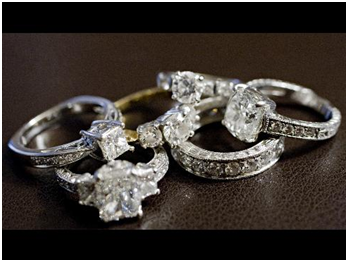 Diamonds Are a Man's Best Friend as Rings Get Cheaper
By Thomas Mulier and Jean Chua
May 1 (Bloomberg) — For bachelors like John Heywood, now's the time to pop the question.
Whether it's the $50,000 5-carat marquise set in platinum, down 25 percent from two years ago, or the Amazon.com variety with a tinge of yellow that's going for $89.99, diamond prices are the lowest in five years.
"I've got a budget of about 6,000 pounds ($8,870) and want to see how far I can stretch that," said Heywood, a 32-year-old salesman, as he studied the window displays on Hatton Garden, London's diamond-shopping center and the setting for "Snatch," the 2000 gem-heist film by Guy Ritchie. "I'm happy to see some shops offering discounts."
The $65 billion global diamond market is reeling. The price of polished gems dropped by an average of 31 percent since an August peak as the worst recession since World War II deterred buyers of luxury items like necklaces and earrings, according to diamond data company PolishedPrices.com. Antwerp, the world's biggest gem trading hub, has seen exports drop as much as a third. De Beers, the largest diamond producer, slashed output by 91 percent.
"People are not buying earrings, bracelets, things they can do without if they want to tighten their belts," said Joe Boll, 36, owner of JP Diamonds on Hatton Garden, which opened about six months ago. "They are still buying rings for weddings, engagement."
$50,000 Budget
The slump is good news for buyers. Katherine Huang, a Boston-based consultant to jewelry buyers, said she helped a client from California with a $50,000 budget find a ring in December for $38,000 with a bigger diamond than he anticipated.
Rings with 3- to 5-carat diamonds of VS2 clarity and G color — meaning they have no visible faults and are almost colorless — have dropped in price by as much as a quarter in two years, she said.
"Go for the larger stones, because the discount is greater," she advises.
Wholesale diamond prices have dropped about 20 percent to 25 percent from their highs around June last year, according to U.S. Internet jewelry retailer Blue Nile Inc., which gets about 70 percent of its sales from diamond engagement rings. The average price of an engagement ring in the U.S. was $3,200 last year, Chief Executive Officer Diane Irvine said.
At the cheapest end of the market, Internet retailer Amazon.com Inc. is selling a platinum ring with a 0.5-carat diamond for $1,675, down from a list price of $3,425. The gem's clarity is SI1 or SI2, meaning there are slight defects that normally can't be seen by the naked eye.
Retailers Suffer
Jewelry retailers are suffering as buyers stay away or hang on for a discount. Signet Jewelers Ltd., the world's largest jewelry-store owner, posted a fourth-quarter loss of $424 million after writing down the value of assets. Tiffany & Co., the world's second-biggest retailer of luxury jewelry, posted a 76 percent drop in fourth-quarter net income.
Blue Nile shares fell 1.6 percent in midday New York trading today. They've added 71 percent this year, though that's been insufficient to recovertheir 64 percent plunge last year.
About 15 percent of jewelry shops in the U.S. closed last year, Paramus, New Jersey-based watchmaker Movado Group Inc. said in April. Irving, Texas-based Zale Corp., the biggest U.S. jewelry chain, said in February it will close 115 stores.
Internet retailers and Wal-Mart Stores Inc. are aiming to undercut the remaining stores. Web sites make it easier to compare prices. Heywood, the shopper in London, said he's been using Blue Nile to research prices before heading to the shops.
For some, engagement rings are the bright spot.
"People are still getting married, thank God," said George Katz, 78, who has been in his family's jewelry business in Hatton Garden for 50 years, mostly selling diamond rings. "Stable is good, considering how much worse things could be in light of what's going on in the economy levitra générique inde."
To contact the reporters on this story: Thomas Mulier in Geneva at [email protected]; Jean Chua in London at [email protected]
Last Updated: May 1, 2009 11:22 EDT